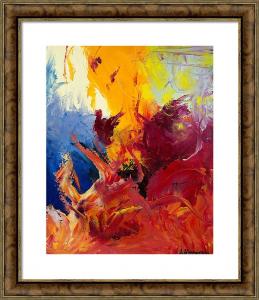 Closing in on 10 000!

Thank you to all 9548 viewers on my Passion oilpainting.

I love to paint with passionate inspiration and strong flow, with no specific style in mind. I used the palette knife in this painting.

SOLD as: Art prints, cards and pillows.

1st place in the Contest "Artist Of September Month : Abstract Artist of Sept 2015"

3rd place in the Contest "Beauty in Art - SELECT MEMBERS ONLY"

Honored to see this painting featured in these ART groups:
1. 10 Plus
2. Modern Art
3. 1000 views on 1 image
4. This Way Arts
5. Women Painters - Hand Paintings Only
6. Arts Fantastic World
7. We Paint Every Day
8. Fine Arts Professionals
9. All Art Welcome
10. Artists Get Famous No Photographs
11. The Gallery Wall (theme of the week: "THE AMBIENCE OF ABSTRACTS")
12. The Social Arts
13. All Aspects Of Abstract Art
14. Abstract Moods
15. Contemporary
16. Cards Cards Cards...